Ride Outs and Trekking
Horse and pony ride outs and trekking even for beginners in the heart of Normandy is  our speciality. You have never been on a horse before, it is possible to ride out in La Manche  because our cavalry is extremely calm and docile .
Many country lanes around our equestrian centre in the  Contentin part of Normandy  enable you to experience a sport you always wanted to try.
For reservation please use the contact sheet and don't forget to put your height, weight and level (knows how to trot, can galop, is a complete beginner etc) so we can determine a horse which is suitable for you.
We can also provide Western saddles if you prefer, just let us know upon reservation.
On a horse or in a carriage it is always a pleasure to discover the nature of Normandy all year around..
 Price per person and per hour : 21 €
Located 8 km from Quineville beach the Ecuries de la Gare are a good starter for trekking to and on the beach. But you should in that case be able to trot, because it is a half day ride out (count three hours and 57 € ). Consult us for group rates.
Promenade à cheval sur la plage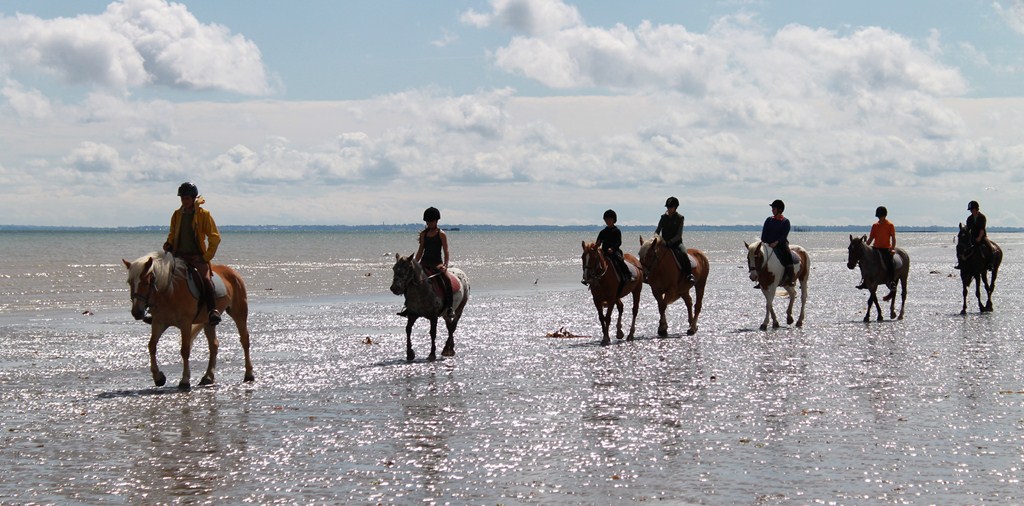 During July and August however you can depart directy on the immense Ravenoville beach, because we have horses detached on the Camping « LE CORMORAN » (take the road which is parallel to the sea and once you look at the Camping with the sea in you back,  we are located at the far right end of the camping. You will see a panel with a girl on a  horse .).
Thus you have the possibility, if you are a confirmed rider, to galop on the enormous landing beaches or, if you are a beginner, even a complete one, you will enjoy  a calme ride in walking pace.
Price for one hour 21 €
Price pour 5 hour voucher : 80,00 €
The little once are not forgotten, we have a trail for kids with Shetland poneys.
Price for half an hour on a kids trail  is  10.50 €
Price for 5 times voucher :42,00 €
For reservations :
You can contact Liese or Niclas  directly, they takes  reservations in fonction of the tides and they both do speak English.
Please dial (0033)  (0) 6.44.87.35.73
If Sophie does not answer immediately, because she might be out helping riders, please do leave a message, she will call you back as soon as possible.
You can also consult the hours we are planning to do the rides out on the beach in the document underneath. But these hours, which have been elaborated in fonction of the tides, gives you an idea, but could change.  You find them on the right side of the document under "promenades à la plage à Ravenoville".:
Time table for horseback riding on the beach in la Manche, Normandy in July 2015
Time table for horseback riding on the beach in la Manche, Normandy in August 2015
MINI-TREKKINGS FOR KINDS STARTING FROM THE EQUESTRIAN CENTRE
During all year round it is possible for kids to go on a little pony tour with their parents holding the pony. Parents can choose if the want to walk just 15 minutes, half an hour or an hour !! Our half hour tour is quite nice actually ..
Price for 15 minutes    6.00 €
Price for 30 minutes   10.50 €
Price for 1 hour           21.00 €
TREKKING ON A HORSE OR PONY
During all year we organise trekkings, to the beach, for example, but also half days to the "Catiaux woods" , or simple  one day .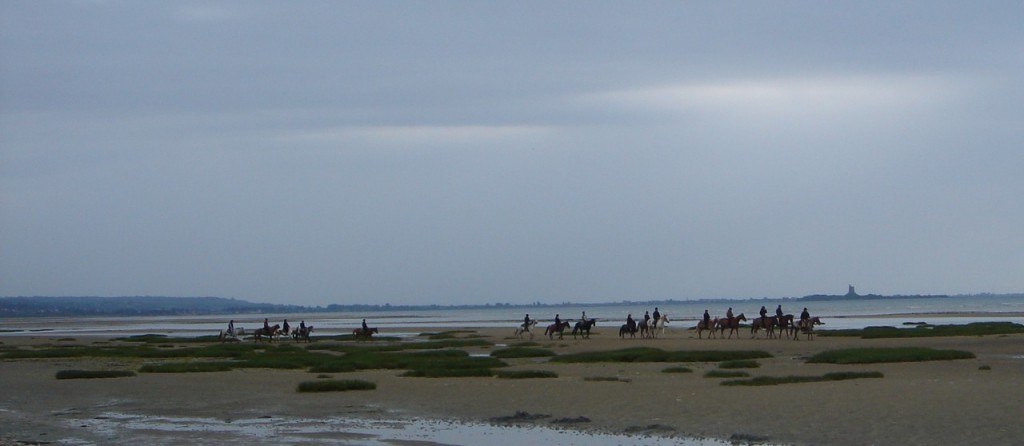 Beach at Aumesville Lestre with the Fort of Saint Vaast la Hougue
 We also organize night trekkings  when full moon is on. This can be on request, but we need at least 8 participants to organize such en event. But it really is great to drink hot spicy wine around  a fire when it's all dark with the horses around….
Every summer we also do a three or four days trekking in order to discover the beautiful Normandy or precisely Cotentin region near Utah landing beaches, St. Mère Eglise or Barfleur. We stop  for lunch on beautiful sites and we sleeping under a tente during nights.
A « week-end on a horse » what do you think  ?
We can offer a week-end on a horse with several formulas  you can choose of  to make it a week-end  "à la carte" !
Each day you can choose amonst 3 possibilities  :
Saturday :
Formula n° 1 : One hour start to put you on a saddle in one of our collectif riding lessons (depending on your level) our a private lesson if you are a real beginner and never have been on a horse before.  
Formula n° 2 : Small start in the arena followed by a ride out of one hour on the nice pathes around our equestrian centre.  This promenade is accessible for complete beginners.
Formula n° 3 : But if you would like to discover a different way to ride or approach a horse you can take a 2 hours session with Pascal who will give you an initiation on Western riding. He will transmit you his passion for this discipline which we are the only once to propose in the north Cotentin area (with a supplement).
Sunday :
Formula n° 4 : A two hours trekking in the woods called "Les Catiaux" (morning or afternoon)  and a ride amongst the herd of our horses in the field.
Formula n° 5 : A three hour trekking to the beach (a minimum of 3 riders are requires and they need to be able to trot and galop.)
Formula n° 6 : A ride amongst our horses in the field with an initiation to ethology and a one hour ride out.
Price for the week-end : 90 € per person Supplement for Western riding (Formule n° 3) : 32 €
Supplement for individual riding course : 12 € A supplementery hour not included in the week-end offer :
Collectif courses or promenade : 21 €
Individual course 37.50 €