Horse Drawn Carriage Driving in Normandy
HORSE DRAWN CARRIAGE COURSES
Pascal GIDON et Jean-Jacques MIRECOURT, former carriage driver for the national stud farm (Haras Nationaux) , offer courses in carriage driving either individually, or in group courses which we organize once a month, usually a saturday (beginners in the morning and the experiences drivers in the afternoon), please refer to "News" for upcoming dates.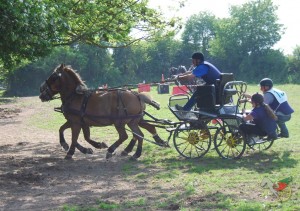 Here you can learn how to drive in complete security. And if you wish you can take your exams to become certified (Galops d'attelage).
There is always something to learn in these courses whatever your level, in a calm and scenic ambiance  with other passionate drivers.
After which you can enjoy driving your family and friends on convivial promenades in a carriage with your horse.
A CARRIAGE DRIVE FOR GROUPES OR A FAMILY ACTIVITY
Que vous soyez un particulier, que vous gériez une école, une maison de retraite, un comité d'entreprise ou une association,
We can offer carriage rides whatever the group size, 4 to 50 persons.
Group rides for handicapped, school groups, oap's, associations also can be arranged.
Along with Pascal and his team the sounds of the carriages, the contact and odours of horses, the gests and materials of the old times make this a memorable experience….
What are you waiting for ??
Si vous avez envie de retrouver les bruits des attelages, l'odeur des chevaux, les gestes et matériaux d'autrefois..
There are several possibilities: one hour,  if you are a minimum of 8 persons,
we can also organize a half day or a whole day trip combined with lunch in a farm  "Accueil Paysan" offering a typical Normandy meal
Our prices:
one hour promenade up to 4 persons 32.50 €, per person complimentary 9,50 €, children up to 3 years free of charge. For group rates please consult us.
half a day to the beach, snack at the beach with Cider, juice, biscuits  from 25 € to 35  €, in correspondence with the number of participants (minimum 8 persons)
Full day to beach, snack on route and meal at the farm : from 39 € to 50 €, in correspondence with the number of participants (minimum 12 persons
USING WORK HORSES FOR AGRICULTURAL USE, MOVING LOGS, TREES ETC
Pascal Gidon Along with  members of our club share the same passion: horse drawn carriage and especially the utilisation of draft horses for agricultural  work, like in the old times, before motorisation…
If you are interested in this kind of work do not hesitate in contacting Pascal.
He can also come to your place (preferably in Normandy!!)  and show you how to work with your horse, but if any "hawling" has to be done our horses can be available.
Prices will correspond to your location.
Do not hesitate to contact Pascal.